Restaurant
Inescapable​ ​restaurant of Franqui ​LE BLEU benefits of one most beautiful views of Franqui with its immense terrace dominating the méditerranée the lagoon of the pond and the cliff of Leucate, the place is simply magic.
Products of the South, the magnificent plates of fishes, wild gambas and caviar, Cod and chorizo wipes, Albacore Rossigny, duck breast and walnut. Finally, this season the Blue(Bruise) will still treat you with its burger of + 500gr French steak We here come to indulge ourselves.
Concerning desserts, the smooth Heart of chocolate is subblime and macaroons.
Pub / Café / Concert
A PUB an institution in the region, in the atmosphere of sliding sport that you will be welcomed by the team of ​LE BLEU. User-friendliness​, ​conviviality​ ​, to have a drink, cocktails and seasonal fruits, accompanied with friends, in couple you can eat its plate tapas. Concerts tendencies rock, pop, reggae, jazz .
Écransi allows us to pass on the big sports​ ​appointmentsrugby, soccer and other important events.

Projection all year long of video of Windsurfing, Kitesurf, Surfing…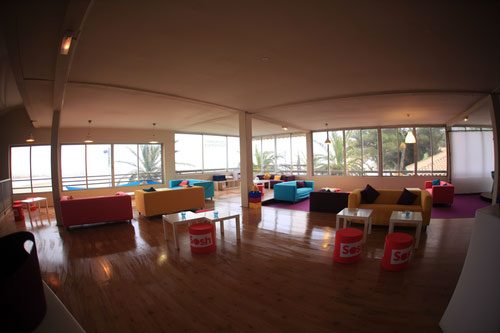 Events
Specialized in the organization of cocktail, seminary, event of company, showroom, team ​building, , marriage …
​LE BLEU proposes you a room of 200m ² planned to welcome up to 150 people, decorated with a bar with living areas.​